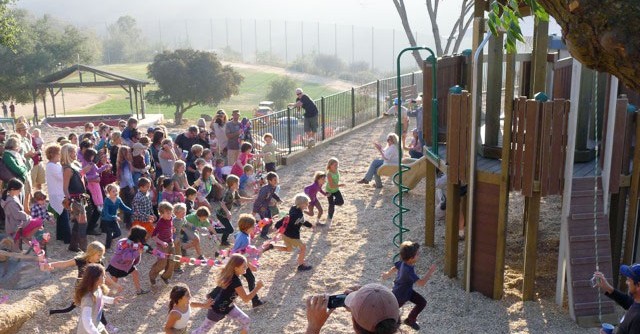 Crane Guys donates Topanga Canyon crane rental for Playground Project
In the hills of Los Angeles county, the close knit community of Topanga Canyon recently joined together to build a much needed brand new playground. Previously, the only playground in Topanga was located at the non-profit Topanga Community Center and was in a state of disrepair. Looking for a local playground to bring her toddler, resident Kelly Rockwell took her son to the old playground and noticed how unsafe it was. Inquiring with the city as to why it was not maintained, she was informed of the lack of funds to repair or replace the old playground.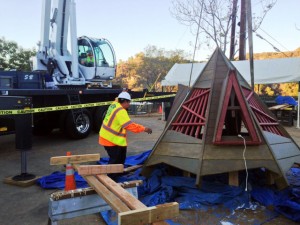 Believing in the spirit of the local community, she decided to lead the fundraising and volunteer efforts to make her dream a reality. The funds were raised to hire a custom playground designer, Play by Design, who took input from children at Topanga Elementary about what they wanted in a playground. The custom wood playground design integrates the local surroundings and celebrates the community's history and residents. The new playground is designed to meet strict, safety guidelines that must be adhered to for public playgrounds.
The playground build was scheduled to be completed over a period of only six days in a barn-raising type event, with the grand opening at 5:00 pm on the final day. Over 100 volunteers donated their time, tools and expertise to this community building effort. After 18 months of planning and fundraising efforts, the playground build was underway, with the exception of one critical requirement — the need for a crane rental!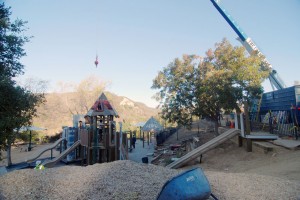 The playground castle has two roofs that needed a crane to lift them into place.  The playground build was in progress and with only a few days left before the grand opening, Kelly contacted Wes Staley, owner of The Crane Guys, late Thursday evening on their 24 hour service line. She explained the project and their urgent situation and Wes agreed to donate the Topanga Canyon crane rental needed on Sunday to complete the project in time for the grand opening. Wes arranged for a crane to be there early Sunday morning and was there personally to assist the crane operator with the lifts.
The Crane Guys is proud to be part of this community building project. The crane lifts required a professional crane service to perform the job in a safe and efficient manner considering the location of the playground and the safety of hundreds of volunteers and workers in the area. The fact that SAFETY is a core value of The Crane Guys as a company, it is fitting that their efforts at Topanga's Only Playground helped provide a safe environment for the next generation of children in the Los Angeles community.