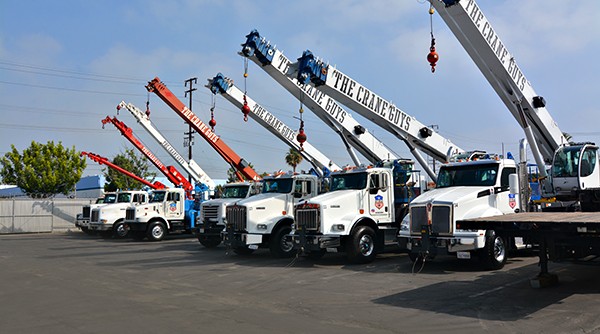 Extending the Possibilities of Boom Truck Rental
Extending the Possibilities of Boom Truck Rental
Is your work crew tackling towering walls, skyscraping trees, or long-distance cable installations? Then count on The Crane Guys for prompt, reliable boom truck rental services. We cover it all – construction projects, equipment moves, and installations. Doesn't matter if the job is large or small. We've got boom trucks ranging from a 3 to 40-ton capacity, with 100′ – 150′ tip height options. Depending on your needs, we also provide spreader bars, specialty rigging equipment, and fixed man baskets. It's all in a day's work at The Crane Guys.
Save Tons as You Move Tons
With boom truck rental, as with all our other crane rental services, The Crane Guys is committed to delivering great service at a great price. To prove it, we offer The Crane Guys' 5% Guarantee – we'll beat any written offer from a competitor by 5%. Period!
Unsurpassed Service
Yes, you'll save money with our boom truck rental solutions. But don't expect a compromise in service. Far from it. Along with our iron-clad pricing guarantee, we guarantee unsurpassed customer service in everything we do. It's part of our code. When you give us the call, count on our team to provide prompt, expert service – start to finish.
Availability is integral to our customer service policy. We know that boom truck rental services may be needed any time, day or night. That's why The Crane Guys offers round-the-clock availability – 24/7/365 days! Not only does this availability cover boom truck rental, it also includes our extensive fleet of cranes, trucking services, and rigging personnel – all ready to respond at a moment's notice. What you need, we've got.
Safety First and Foremost
With The Crane Guys, boom truck rental includes expert personnel with a firm commitment to safety. Depending on their responsibilities, crews receive thorough safety training in a variety of disciplines. Areas covered include the National Commission for the Certification of Crane Operators (NCCCO), Qualified Rigger and Signal Person training, Bechtel Passport, Transportation Worker Identification Credential (TWIC) card, CPR and First Aid, Fall Protection, Railroad Safety and Security Awareness, and OSHA 10 & 30 Construction Outreach.
Are you facing a job that requires an extra-long reach? Count on The Crane Guys to rent boom lift services and deliver the expertise, customer service, safety, and competitive pricing you need. If you'd like to learn more, reach out to The Crane Guys for more information and answers to all your questions. You'll discover why we're lifting crane rental services to a whole new level.