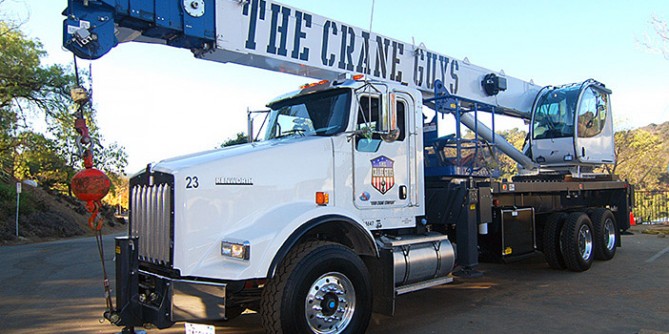 Here Comes the Boom Truck Rental!
Boom trucks provide the support and height needed for walls too high to scale, trees too high up top to trim, electrical and cable work to be done from afar, and attaching advertisements. An extendable arm is attached to the vehicle with a cylindrical, bucket-like container on top, large enough to fit whoever is doing repairs. Whatever your boom truck needs in Southern California are, The Crane Guys have you covered and put your satisfaction on top.
Call: (855) 482-7263
Whether it's a construction project, equipment move, or installation, The Crane Guys has the right crane for your job. We offer Boom Truck Rental with 3 to 265-ton capacity with 100′ – 150′ tip height, as well as, spreader bars, specialty rigging equipment, and fixed man baskets (upon request). Our versatile fleet of boom trucks allows The Crane Guys to perform jobs of all shapes and sizes, especially in difficult or special areas. Centrally located in Los Alamitos, we provide crane rental service to Los Angeles County and all of southern California.
Boom Truck Crane Service
Whatever task you have at hand, the Crane Guys can help. Finding solutions for the work you need above can save you time, money, and provide the safest alternative. The condition and well-being of your home or business are important to you, and it's the core of how we at the Crane Guys do business.
If you have any questions regarding your next boom truck rental, give us a call toll-free at (855) 482-7263, any time of day. We will gladly go to your location and do a free job walk to figure out the best lifting option for you.
Centrally located in Los Alamitos, CA, the Crane Guys provides hydraulic crane rental service for the entire Southern California area including the counties of Los Angeles, Orange County,  Riverside County, San Bernardino County, Ventura County, Kern County and San Diego County.
We provide Boom Truck Rental and service 24/7 – 365 days a year. Call us anytime to serve your crane lift needs.

Toll Free: 855.482.7263
Office: 562.777.0600
24 Hour Service: 626.523.7983
Fax: 562.777.2424
E-mail: office@craneguys.com
5% Guarantee – The Crane Guys strives to have to most competitive pricing and most reliable boom truck rental and service in southern California. We will beat any written offer from a competitor by 5%.