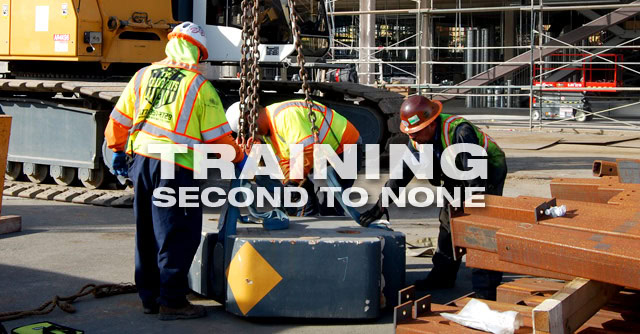 Crane Safety Training – second to none
When it comes to crane safety training, no shortcuts should ever be taken. However, in many cases, most companies in our industry tend to only have a few operators that have the credentials that every operator in our company has. Then again, it's not always easy to put together a crew that soars above the rest, especially when it comes to mixing and matching certifications to create the perfect team. But here at The Crane Guys, our priority is SAFETY, and our commitment is SERVICE. We've done the work so you don't have to.
With The Crane Guys, you can rest assured that every member of our crew is both prepared and trained to take on any job in the state of California. We train our employees to the highest degree of job specific training, and every operator holds a National Commission For The Certification Of Crane Operators (NCCCO) certification, a Bechtel Passport, a Mine Safety and Health Administration (MSHA) certification, a Transportation Worker Identification Credential (TWIC) card, and is a qualified rigger and signalman. Our commitment to safety also ensures that every operator has a CPR and First Aid certification, has completed RF Safety Hazard Awareness Training, possesses an RSO/Passport certification, and is OSHA 10 & 30 trained by the Occupational Safety And Health Administration. According to the United States Department of Labor website, this Outreach Training Program ensures that workers are up to speed on workplace hazards through training on recognition, avoidance, abatement, and prevention of both health and safety hazards in the workplace.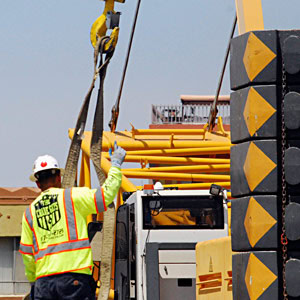 Our team is bred to be aware of any situations that may come into play at any given time. Many of these certifications must continuously be refreshed annually or semi-annually, which ensures that every member of our crew is always ready to take on any job to the best of their ability. Our in-house dedicated safety director, Phillip Brundage, has also taken our commitment to safety to the absolute highest level, ensuring that we perform at peak levels for every job. It's no secret that we are committed to standing above the rest in our industry, and there is no precaution too great to keep us from holding the highest standards of training and safety. We feel that the most valuable product we offer is our excellence in our safety programs and procedures. Our comprehensive training program is second to none, and we intend to keep it that way through our rigorous training and very high standards.
A safe, professional, and productive crane operation is only achieved by having the right company with properly trained personnel in place to conduct the job efficiently. If these are your goals, then contact Phillip Brundage (562) 777-0600, or talk to any of our other professionals at The Crane Guys to assist you.