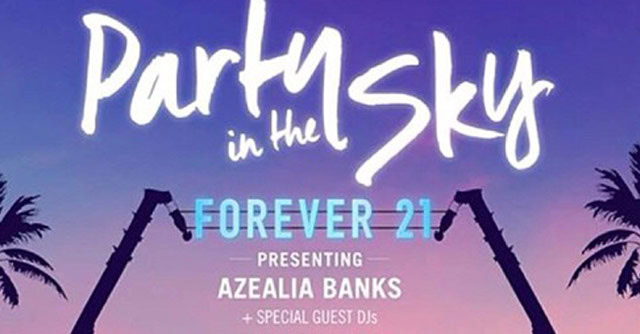 The Crane Guys Prove the Sky's the Limit at Music Festival
For The Crane Guys, meeting challenges is par for the course when providing expert crane rental services.  But this would take challenge to a whole new level.
The spot was the Coachella Music Festival. As part of the event, Forever 21 was hosting a spectacular 'Party in the Sky' — made all the more spectacular by a DJ platform suspended from the main booms of two opposing cranes. Not surprisingly, the Crane Guys were called in to pull it off.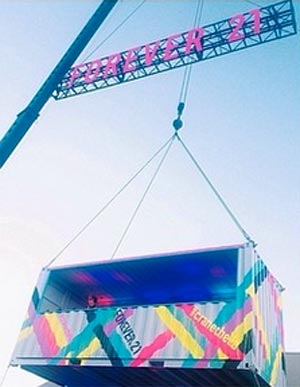 But there would be hurdles to jump. First was the event's proximity to the Palm Springs Airport.  Neither the FAA nor the airport relished the idea of a crane boom jutting 170' into possible flight paths.
Fortunately, The Crane Guys drew from a wealth of experience dealing with FAA requirements.  Digging deep, their strategists crafted an air-tight plan that quickly earned FAA approval.
The platform itself presented a whole other challenge. Apparently, it lacked sufficient square footage to accommodate both DJ and music gear. Racing to the chalkboard, their strategists crafted the perfect solution – replace the platform with a modified 20' shipping container. This would both satisfy safety requirements and offer plenty of elbow room.
After some deliberation, the plan was approved. But the clock was ticking. The Crane Guys had a mere 5 days to secure a container, engineer it to meet OSHA requirements, perform needed modifications, and slap a coat of party-ready paint on it.
Ordinary crane rental companies would have faltered. But The Crane Guys got it done with hours to spare.
Thanks to their efforts, the party was a hit.  So much so, in fact, that 700+ partygoers proclaimed their delight with over 1,000 glowing social media posts.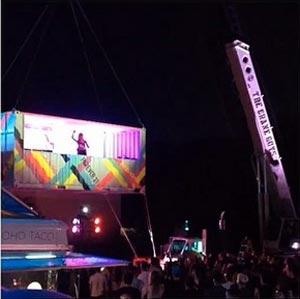 These dedicated crane rental experts can work wonders for you, too. No matter what your needs, contact The Crane Guys when you want it done right … and right on time.