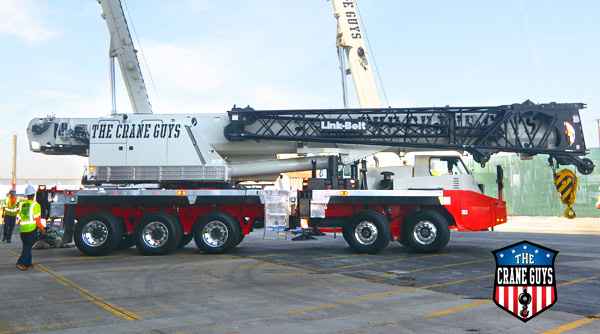 Crane Rental and Leasing Service
The right crane rental and leasing service is crucial. The success of your lift depends on it. The Crane Guys knows all about successful lifts. Our crane rental service has been providing them for years. For our efforts, we've earned a well-deserved reputation for excellence on all levels. But this didn't just happen. First we had to hone our skills, build up a reservoir of experience, and compile an outstanding safety record.
When considering a crane rental service, look at its depth of resources. Will the service have what you need? Can it accommodate an unusual situation? The Crane Guys confidently answers 'yes'. When it comes to resources, we go well beyond the call of duty. Our extensive fleet includes everything from rugged boom trucks to large hydraulic cranes. Give us your load, and we'll give you our lift muscle — no matter what. We cover the waterfront, offering an impressive range of 3 to 265 lift capacities. We can even provide the equipment and personnel needed for multi-crane lifts. You might say we've got it all.
Of course, numbers don't count for much if performance lags. No lags with The Crane Guys in your corner. We've gone the distance to ensure maximum reliability for our entire fleet. Every crane is a marvel of precision engineering; every carrier, boom, turntable, hydraulic pump, and other component, the epitome of reliability.
Reliability definitely matters when you're tied to a schedule. Again, our crane rental service sets the standard. We deliver on time and without hassles. For larger cranes, we provide trailers, counterweights, and other equipment necessary for a timely arrival. We know you're eager to get started. So are we.
Once our team is on the job, safety becomes a priority. Our commitment to safety is underscored by the level of training received by our crew members. Qualified by the industry's highest certifications, including OSHA, our certified crane operators and certified rigging personnel are fully prepared to minimize hazards and maximize the protection of people and property.
Clearly, our credentials promise a high level of performance in all key areas. But how available are we? Very. Our crane service locations cover all of Los Angeles, as well as surrounding Southern California Counties such as Orange County, San Bernardino County, Riverside County, Ventura County, and San Diego County.
Competitive Crane Rental Rates
So, what about your wallet? Relax. It's as safe as the job sites we service. That's because The Crane Guys offers the industry's most competitive crane leasing rates. In fact, we guarantee that we'll beat any written offer from a competitor by 5% — any day, any time.
Do you have an important load to lift? Don't leave it to chance. Contact The Crane Guys at (855) 482-7263 to learn how our acclaimed crane rental and leasing service can offer you the very best, most reliable solution.