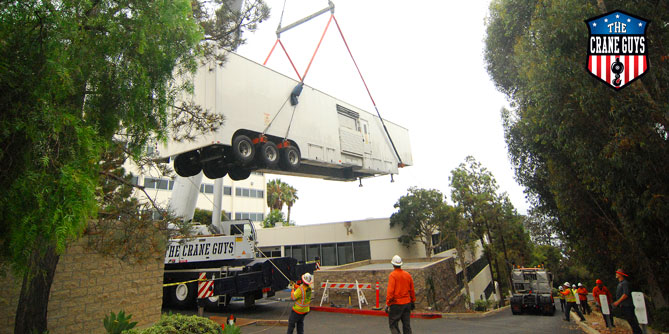 Crane, Rigging, and Heavy Hauls
If there are three words that go together in the world of crane rental, it's crane, rigging, and heavy hauls. When a major project emerges, all three often come into play. This gives a crane company like The Crane Guys tons to think about when tackling a project.
Available 24/7 at: (855) 482-7263
Crane rental is a challenge by itself. Any company providing crane rental services must consider numerous factors before a plan unfolds. First and foremost is the all-important question — what type of crane gets the call? The answer can vary, depending on circumstances. Decisions must be made, and made fast. Lift projects seldom have loose schedules.
Hydraulic Crane Rental
Does a project call for a monster lift? A hydraulic crane is mandatory. But what should its load capacity be? A qualified large crane service like The Crane Guys can answer that question with precision and speed.
But we haven't forgotten the 'little' loads. For those 'modest' lifts, we've got boom trucks galore waiting in the wings. The capacity of these vehicles ranges from 3-tons to 40-tons. Whatever the situation or needs, we've got the right crane ready for action.
Crane Rigging
We also have the right crane rigging. This is crucial. Rigging consists of all those handy components necessary to pull off a lift. This includes cables, winches, pulleys, wires, and other important items. As a bonus, The Crane Guys also supplies the expert riggers with the skill and stamina needed to connect all that equipment.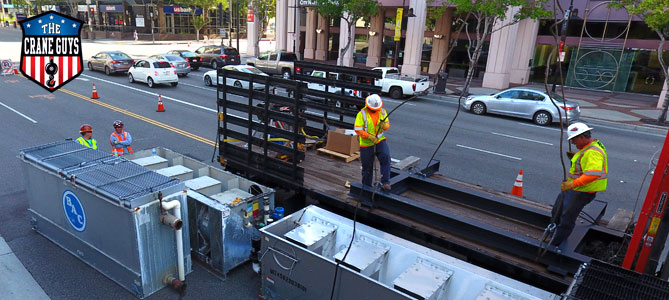 Sometimes, of course, there's not only stuff to lift; there's stuff to carry away. No problem. The Crane Guys offers complete freight lifting and trucking services. As with our lifts, load size is never a concern. Our heavy-duty flatbed trucking services provide reliable transportation for the heaviest, most massive cargos. Even the oversize. In fact, we pride ourselves on offering the best oversize cargo transportation in the West.
The Crane Guys is equally versatile when it comes to distance. Whether you need a load hauled far, far away or just around the block, we relocate with maximum efficiency. It's another reason for the overall excellence of oversize cargo transportation.
Our heavy hauls flatbed trucking fleet consists of two core vehicles. The rugged 12-foot flatbed truck handles the 'smaller' proportion loads. For bulkier hauls, we have at the ready a fleet of 26-foot flatbed trucks. Complementing this impressive lineup is a formidable lineup of 20-foot to 48-foot trailers. And if you've got something colossal looming, you can't do better than our 65-ton lowboy trailer. They're all on call and waiting for action. So, what do you need to haul? Whatever it is, you can count on us for expert transportation that conforms to California's highest safety standards.
Would you like to learn more? Please contact us for additional information and answers to all your questions. You'll discover that when it comes to dealing with crane, rigging, and heavy hauls, nothing beats The Crane Guys.