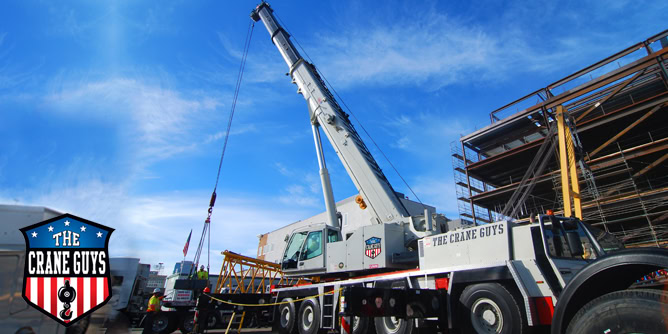 Crane Rental Service at a Higher Level
For each and every heavy crane lift project, The Crane Guys swings for the fence with our variety of cranes ranging from 3 to 265 ton capacities individually. Our team doesn't just lift and leave. We take a project all the way home. It's all part of our commitment to deliver crane rental service at a championship level.
What fuels the success of our crane rental service? What facilitates our consistently phenomenal results? One of the factors is, of course, our extraordinarily vast supply of cranes, vehicles, rigging, and other heavy-duty equipment. What you need, we have. And what we don't have, we'll get. We're ready for whatever you throw at us. This includes massive loads that require the transportation capacity of something really, really big. Exactly why The Crane Guys includes oversize flatbed truck rental in our lineup.
But hardware alone doesn't make a powerhouse crane rental service. To really smack it out of the park, your team better be top-notch and on their toes. The Crane Guys is proud to say ours is. Second best? Never heard of it.
Let's start with our certified crane operators. Every last one of them boasts the industry's highest qualifications, including NCCCO and Cal/OSHA certifications.
Ditto for our certified rigging personnel. When they install lifting gear, they do it backed by the same NCCCO and Cal/OSHA certifications.
These champions never rest on their laurels, however. Which is why our certified crane operators and certified rigging personnel must stay razor sharp with ongoing educational and training programs. Yeah, we're determined to keep things hazard-free.
This determination definitely shines through in our advanced heavy lift safety techniques. Utilized in the most challenging situations, these combine high-level technical proficiency with a fierce commitment to minimizing job site hazards.
Our Crane Rental Services include 3D Lift Plans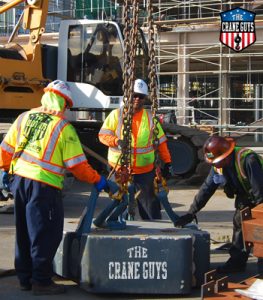 They're hunkered down somewhere deep in The Crane Guys' think zone. These master strategists plot and plan every move made by crane and crew – long before the job commences. They are the revered designers of the 3D lift plan. Safety and efficiency begin with them.
These great minds are capably assisted by the industry's premier software, aptly named 3D Lift Plan. This provides the ultimate, realistically-detailed three-dimensional preview of the job site. It also processes crucial data such as load weight, size, and obstructions, identifying the optimal crane and safest strategy for the operation. The minute we're done with one, we're on to the next. The action never stops.
Do we ever take a break from the torrent of feverish activity? Nope. The Crane Guys offers its acclaimed crane rental service 24 hours a day, seven days a week, every day of the year. And we offer it at the most competitive prices in the industry. In fact, we ensure the most attractive rates with an air-tight guarantee – The Crane Guys will beat any written offer from a competitor by 5%. Period.
Would you like to learn more about our acclaimed crane rental services? Contact The Crane Guys for further information and answers to all of your questions. You'll quickly discover why we're Southern California's go-to crane rental company.